Utah Fire Corps Support
Fire Corps and The National Volunteer Fire Council provide several ways to enhance or establish a Fire Corps program in your community. Launched in 2018, the NVFC offers virtual training through their online portal. Topics range from:
Behavioral Health in the Fire and Emergency Services (.1 credit)
Cancer in the Fire Service: A Growing Epidemic (.2 credit)
Fireground Accountability: Daring Not to be a Statistic (.1 credit)
Flawed Situational Awareness: The Stealth Killer of First Responders (.2 credit)
Incident Safety Officer (ISO) Series (.3 credit)
Is Your Department at its B.E.S.T.? (.2 credit)
Obesity in the Fire Service (.1 credit)
Overhaul: What's the Worst that Could Happen? (.1 credits)
Preventing and Coping with Suicide in the Fire and Emergency Services (.2 credit)
What to Expect: Helping Your Family Adapt to the Volunteer Fire Service (.1 credit)
Sign up information can be found here: https://www.nvfc.org/access-the-nvfc-virtual-classroom/
Fire Corps and the National Volunteer Fire Council also offer training on Wildland Fire Assessment – https://www.nvfc.org/programs/wildland-fire-assessment-program/
What is Fire Corps?
Fire Corps is a national grassroots effort to help fire/EMS departments enhance their services by engaging with community members to assist with non-emergency tasks. Whether they are conducting fire prevention and life safety education, installing smoke alarms, writing grants, managing a department's social media, or a myriad of other activities, community volunteers can make a real difference. Utilizing community support helps departments increase their capacity and allows first responders to focus on operational duties, training, and emergencies.
Fire Corps Program Volunteer Spotlight
Natalie Tholen has worked in Fire Corps volunteer programming for over nine years. What began as a few hours a week has grown into a part-time job managing many other volunteers. She serves as the Public Education Specialist at Layton Fire Department in Layton, Utah and has acted as the volunteer coordinator for nearly ten years. What began as an opportunity for a stay-at-home-mom to spend a few hours out of the home developed into a part-time job coordinating over 4000 volunteer hours per year.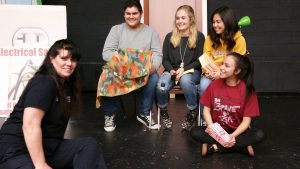 In 2006 Tholen's father, a veteran Police Officer for Salt Lake City passed away. Tholen had always been impressed with her dad's integrity and work ethic. "I wanted to be the kind of daughter my parents would be proud of," says Tholen.
Tholen's dedication to volunteer began just two months before her father's passing. She was taking classes with a local CERT group (Community Emergency Response Team) when she asked if she could help take part in some of the teaching. Within months, she was part of the team – regularly volunteering her time to the needs of the community. "I felt like it was an important way to be a part of things," she adds.
"I took my family with me. It was important to do that. We were there so much that volunteering defined who we were as a family," says Tholen.
It wasn't long before Tholen's efforts were noticed. A job supervisor offered her a position to coordinate programming for the area.
"I initially turned it down," Tholen stated. "They came back a month later and offered it again and I accepted."
From there, Natalie found great success at her new calling. She grew the programs offered in Davis County to include CERT training and Fire Corps.
Fire Corps is a volunteer fire program that assists fire departments and communities prepare for and manage fire emergencies. Many communities throughout Utah support Fire Corps initiatives and it is a popular program for volunteers nation-wide. Fire Corps seeks to:
learn about promising practices being used in existing non-operational volunteer programs;
share this information with departments that want to expand or improve their programs;
increase the use of non-emergency volunteers in existing programs;
help citizens learn about and get involved in Fire Corps programs in their communities;
help agencies without a program to get one started. (www.firecorps.org/aboutus)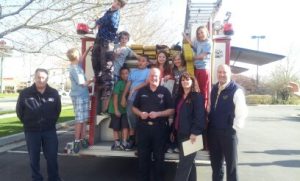 Much of what Tholen's Fire Corps group's success is because of her initiative. The group takes part in emergency preparedness fairs, mock disaster simulations, youth firesetting prevention, fund raising, grant writing, and many other activities. Tholen grew her Fire Corps program to include fire safety education programming for students from high school down to pre-school ages. The programs were written, created, and administered to the public by volunteers recruited by Tholen. High school students joined the program and performed safety education assemblies for their neighborhood elementary schools.
"I wrote the skit that is used by the Junior Fire Corps kids and direct the 6th graders to perform their skit to Head Start and pre-school aged children on 'What's Hot and What' Not in the Home.'"
Tholen estimates that in 2016 over 11,000 students were taught in the Layton City area, a city with a population of 75,000.
Between the many different events and programs, Tholen estimates that her volunteers give over 4000 hours a year in community service. There are even more important statistics connected to the success of her program: "Since our programs began we have seen a 20% reduction in home fires in Layton and a 75% reduction of juvenile firesetting." Because of her efforts, The Layton City Fire Corps is now featured by the National Fire Academy as one of the top 3 fire education programs in the nation.
What began as an opportunity for a stay-at-home mom to get out of house became a commitment to the safety education of her community.
Moving forward, Tholen would like to see Fire Corps continue to grow in the Layton community. She would also like to emphasize that it's a great opportunity for anyone looking for a place to help. "Just because you don't have a fire background doesn't mean you can't fit in with Fire Corps."
When asked where she draws her inspiration from, Tholen notes that, "I have found some of my greatest joys in losing myself in the service of others. I found myself. I have gotten a lot from volunteering and hopefully I can help other people get the same rewards from it."